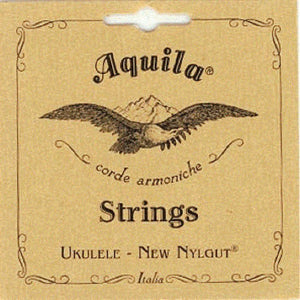 Aquila AQ-C Concert Ukulele strings
This is a new set of Aquila Concert ukulele strings & the buyer pays $1.99 shipping in the USA!

The New Nylgut Series of ukulele strings by Aquila were developed by
blending three different synthetic components to make a composite
material that sounds better and stays in tune better than standard nylon
strings, but with the feel and playability of genuine gut. An added
feature of this exclusive composite material is that is was designed to
absorb less moisture than other strings; which greatly improves
intonation and tuning accuracy.