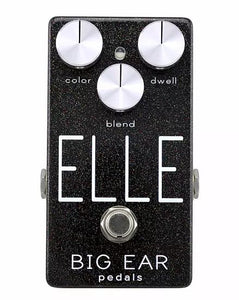 Big Ear Pedals Elle Reverb *Free Shipping in the USA*
Product Info
ELLE is an ever-so-slightly modulated reverb pedal that can cover everything from a spring-esque slap-back to a full-on shimmering, ringing, and huge- sounding hall-reverb.
ELLE's simple three-knob layout allows you to easily dial-in a beautiful and inspiring setting every time you plug in! With the "DWELL" knob all the way up, your reverb will ring out infinitely, and can even oscillate if the rest of the controls are set high enough. The light modulation adds another dimension (some in the guitar world call it "mojo") that we can't fully explain with words, but we promise you'll love!
As of November 2018, ELLE will no longer contain a battery snap and will require a standard 9v (100ma) power supply with a 2.1mm barrel connector (negative center).
*This pedal DOES NOT come with a power adapter. We recommend using an isolated DC power supply.
Warranty & Final Sale Policy
All BIG EAR pedals are assembled by hand in the USA. Pedals within the USA are covered under a Limited Lifetime Warranty against defects in workmanship (for as long as we are in business). All sales are final!