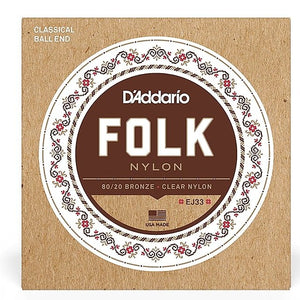 D'Addario EJ33 Folk Nylon Guitar Strings Ball End 80/20 Bronze/Clear Nylon Standard
EJ33 Folk Nylon strings feature 80/20 bronze basses, clear nylon
trebles, and D'Addario ball ends to accommodate a variety of guitars and
string changing options. D'Addario Folk Nylon strings are constructed
with high quality nylon and a ball end on each string to facilitate easy
installation on classical or steel string acoustic guitars, if desired.

Buyer pays $3.49 shipping in the USA!