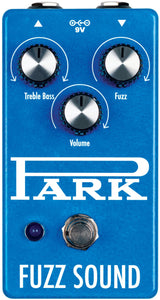 EarthQuaker Devices Park Fuzz Sound *Free Shipping in the USA
The Park Amplification company, originally started by Jim Marshall himself, has almost as much history as the actual Marshall name. As the story goes, Jim Marshall entered a distribution deal for his amp line in 1965, but the terms of the deal were vague enough such that Marshall could build amps on the side, just not under his own name. Thus, Park was born, and the amps produced under that name were slight variations on Marshall circuits until the company dissolved in 1982.

Among the line of amps, a few pedals were also produced. Most of them were wahs or variations thereof, but one pedal stuck out: The Park Fuzz Sound.

The original pedal (we had one) featured unlabeled TO-1 package transistors, so one would think that the circuit left us with Jim Marshall. However, the good folks at Earthquaker Devices, in collaboration with the newly-resurrected Park Amplification, have faithfully recreated the Park Fuzz Sound so that a new generation may enjoy it.

While the original deployed the aforementioned mystery cans, the new Park Fuzz Sound uses a different set of NOS germanium transistors, hand-selected for a tonal match. Indeed, when A/B'd with the original unit, the sounds were strikingly similar. In fact, the staff at PGS was split right down the middle as to which was which. What's more, when doing the test, we had to set the new Park Fuzz Sound's Fuzz control at about half, whereas the original was dimed. The reissue has way more range in the Fuzz dial than the original.

Another bugaboo of original fuzz pedals is the powering situation; in the case of the original Park, it's powered by a battery only but changing it out required using a lever to pry open the lid. While that's a hassle, using batteries is kind of a hassle in and of itself. However, this and many older fuzz pedals are positive-ground; the common workaround is reversing the lugs on the power jack internally, but this configuration means that the pedal cannot be daisy-chained. The new Park Fuzz Sound doesn't phone it in, offering a chip inside that corrects the voltage problem for complete rig integration.

The new Park Fuzz Sound is hand-made, one at a time in exotic Akron, Ohio. The pedal is wire for true bypass and accepts a standard 9v center-negative Boss-style power adapter. The current draw is low, so it's ready for your isolated power supplies.