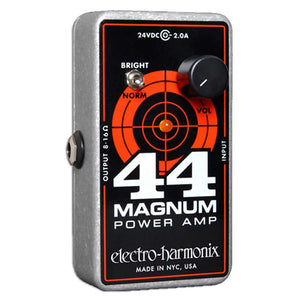 Electro-Harmonix 44 Magnum *Free Shipping in the USA*
From Electro Harmonix;

The new 44 Magnum guitar amp head provides 44 watts of clean and natural
power but can also deliver a true amplifier overdrive at the turn of a
knob. From your pocket to the stage, the 44 Magnum is the perfect
gigging and practice solution. Despite being described as a "guitar
head" the 44 has the character and control to work with any electric
instrument. Flip the brightness switch for a more defined top end. The
sweet tone of our legendary 22 Caliber but with an extra power edge that
can make a difference.