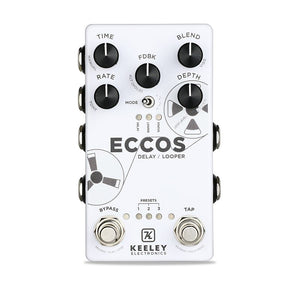 Keeley ECCOS Neo-Vintage Tape Delay *Free Shipping in the USA*
The true-stereo Keeley ECCOS artfully combines a delay pedal and a
looper. At the heart of the ECCOS is a neo-vintage delay with
unprecedented control over tape-style echoes. Create long and majestic
sounding tape flanged delay lines and then switch to the feature-packed
Looper to record endless layers of sound! Dual stomp switches in delay
mode are for true-bypass, tap-tempo and even endless feedback – but in
looper mode they allow you to record, play, reverse, half-speed and even
trigger a "play-once". Live or as a studio workstation the delay and
looper work together giving you endless room for creating and
experimenting in a small footprint. With over four years of development
on the Quad 24/56-bit Dream DSP, Keeley has reached the pinnacle of
delay sound quality with the amazing new tones in the ECCOS.


ECCOS is a True Stereo Delay and Looper


Studio quality delay with tape flanged modulation


Features include 3 memory presets, subdivisions, trails, runaway feedback


Huge array of tone and time-based controls with the Alt Hold feature


Full-featured Looper with reverse and half-speed loop effects


2 minutes of looping in mono, 60 seconds in stereo,


Endless layers of recording!


True-Bypass and Tap Tempo on-board or remotely with any style pedal-switcher


Expression pedal assignment over any parameter and in any direction


Pro Rig designed, remote control thru 1/4″ jacks for live use with pedal switcher systems


100% analog dry signal, audiophile designed input to output


Stereo True-Bypass/Trails, switchable on the fly


9 Volt DC, 115mA low-current design


Made in Edmond, USA