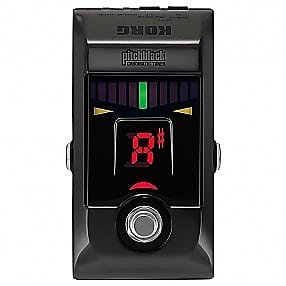 Korg Pitch Black Tuner PB-AD *Free Shipping in the USA*
These Korg PB-AD Pedals are new in the box! Free shipping in the USA!
As the clear standard in pedal tuners for the guitarist or bassist, the Pitchblack is loved by professionals and amateurs around the world. The Pitchblack Advance is the next-generation model, a further evolution that features an advanced cutting-edge form and many of the functions and technologies developed for previous models of the Pitchblack series. Embracing both the traditional and the revolutionary, it represents the perfect summation of pedal tuners.
Scale 12 note equal temperament Detection Range E0 (20.60 Hz) – C8 (4186 Hz) Calibration Range A4 = 436 – 445 Hz (1 Hz steps) Detection Accuracy +/- 0.1 cent Input Impedance 1 M-ohm (tuner on) Display Modes Regular, Strobe, Half-strobe, Mirror Connectors INPUT (mono 1/4" jack), BYPASS (mono 1/4" jack), DC 9V IN, DC 9V OUT Power Supply 9V type battery (6F22/6LR61) x 1 or AC adaptor (9V) Battery Life Approximately 60 hours (6LR61, A4 continuous input, tuner on, display mode: Regular mode) Approximately 30 hours (6F22, A4 continuous input, tuner on, display mode: Regular mode) Current Consumption Maximum 20 mA Dimensions (W x D x H) 68 x 111 x 47 mm / 2.68" x 4.37" x 1.85" (including rubber feet) Weight 257 g / 9.07 oz. (including battery) Included Items 9V battery x 1 Accessories AC adaptor (9V)