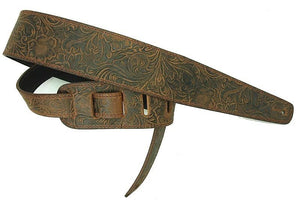 LM Products Guitar Strap Tooled Leather Guitar Strap Brown Western Pattern LS-2304T *Free Shipping in the USA*
This is classic LM creation features
proprietary western tooled embossed full grain leather with an
additional smooth & soft leather backing layer. You'll feel the
undeniable quality as soon as you put it on your guitar and sling it
over your shoulder.
Color: Brown
Width: 2.3" or 2.9"
Length - 37" - 58"