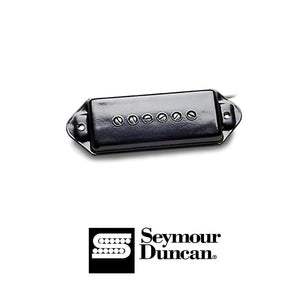 Seymour Duncan Antiquity P-90 Dog Ear Bridge Pickup 11034-66 Electric Guitar Pickup *Free Shipping
From Seymour Duncan;

This Seymour Duncan Antiquity P-90 "Dog
Ear" Neck Pickup is designed like a '59 gold top with the same
hand-fabricated bobbins, wire, and "flatback" tape used in the
originals. Two specially calibrated Dun-Aged Alnico II magnets are
attached to a metal spacer which transfers the magnetic field to the
strings via six fillister head pole pieces. This "Dog-Ear" version comes
with an aged black cover that looks awesome!