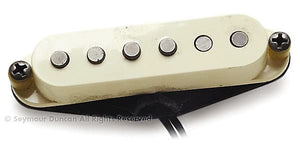 Seymour Duncan Antiquity Texas Hot Single Coil RWRP for Strat 11024-03 Electric Guitar Pickup
Seymour Duncan:

"For years now I've been custom-making these pickups for my friends and special artist friends. Each Texas Hot" is carefully assembled and hand-wound like the traditional classics. Careful attention to details like scatter-winding ensures that the Texas Hot looks and sounds like a classic Strat® should. I make them for the player wanting the closest re-creation of a vintage pickup. Period. The magnets are calibrated and the coils are wound "top going" with "north" magnetic polarity, the same as the early vintage models. Each cover is individually aged: not just injection molded with custom colored plastics. Each pickup comes complete with screws, schematics and vintage "push back" cloth braid hookup wire. Also, an RW/RP version is available for the middle position."

This pickup series consists of three models, and since some people are confused by the naming convention, here's some clarification. The three models are as follows:

11024-01 Custom Bridge
11024-02 Texas Hot
11024-03 Texas Hot (RWRP)

The Texas Hot (11024-02) is essentially a slightly hot '50s Strat pickup. You could use three of these in a Strat if you wanted to emulate what Fender did in the '50s, which was to use three pickups of the same output, with no RWRP middle. If you want a hotter bridge, then add the Custom Bridge. If you want a RWRP middle, then add that.

The confusion lies in the fact that most people assume "Texas Hot" is the hotter pickup, but this isn't the case, it's the lower-output pickup. The Custom Bridge is the hot one."