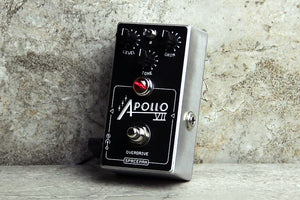 Spaceman Apollo VII Overdrive *Free Shipping in the USA*
Introducing the Apollo VII

The
Apollo VII is a rich, medium-gain overdrive pedal with an intuitive and
diverse sound palette. Inspired by the incredible response to the
Voyager I tremolo, we've carefully extracted the drive and tone-shaping
elements to create the Apollo VII. Familiar sounds and new features
collide in this explosive new design.

The simple control
interface houses new and refined features while offering the highly
regarded tone of the original. As a tribute to the Apollo VII, NASA's
first three person mission, there are three controls: level, gain and
tone. Each has been optimized to offer a wider variety of sounds, with
up to 40dB of gain on tap. The toggle switch also provides three
options: LED clipping, silicon diode clipping, and no diodes. LED
clipping offers mid-range focused grit - this is the sound of the
Voyager I. Silicon diode clipping provides a more compressed and
aggressive sound with a smoother decay tail. With no clipping diodes in
circuit, the Apollo VII becomes much more touch-sensitive and will growl
and bark with astounding dynamic variation.


Hand-wired
and built in Portland, Oregon, the Apollo VII features true-bypass relay
switching with a soft-touch footswitch. On top of the cast-aluminum
enclosure sits a durable, engraved vinyl faceplate and jewel indicator
light. This pedal is built to last a lifetime both on Earth, or in the
vacuum of space.

The Apollo VII is available in two variations: Standard Edition and Limited Edition.

The
Standard Edition gets straight to the heart of the Apollo VII.
Utilizing a mix of modern and traditional build techniques, these pedals
are hand-wired and feature a raw metal enclosure for a rugged,
industrial aesthetic.This edition is not strictly limited or numbered.

The
Limited Edition celebrates the art of pedal building and gets into the
details of handcrafted effects. Available in four deluxe powder-coated
colors (White, Purple Sparkle, Black and Blue Starlight), these signed
and numbered pedals are completely soldered and wired by hand, with
premium packaging.